Ball Joint Assembly 923-0448A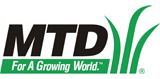 Skill Level
Lawn mower lock ball joint assembly. 7/16" in diameter, 20 threads. If the ball joint is broken, the lawn mower will be difficult to steer.
Product Type:

Lawn Mower

Brands:

Craftsman, Toro, Ryobi, Troy-Bilt, Murray, Yard Machines, MTD, Huskee, Montgomery Wards, Bolens, Yard-Man, MasterCut
Does this part fit my product?
Repair Help by Brands and Product Type
Alternative Part Number(s)
Replaces Part Number 723-0448A
Replaces Part Number 723-0448
Replaces Part Number 723-0448AP