Carburetor Bowl Gasket 693981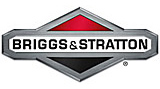 Skill Level
Small engine carburetor bowl gasket.
Helpful Tips
We recommend using fuel stabilizer to keep your fuel fresh and protect your engine from corrosion.
Product Type:

Lawn Mower, Small Engine, Snowblower, Tiller, Pressure Washer, Leaf Blower, Wood Chipper

Brands:

Briggs & Stratton, Toro, Cub Cadet, Lawn Boy, Snapper, Simplicity
Does this part fit my product?
Alternative Part Number(s)
Replaces Part Number 280492
Replaces Part Number T280492