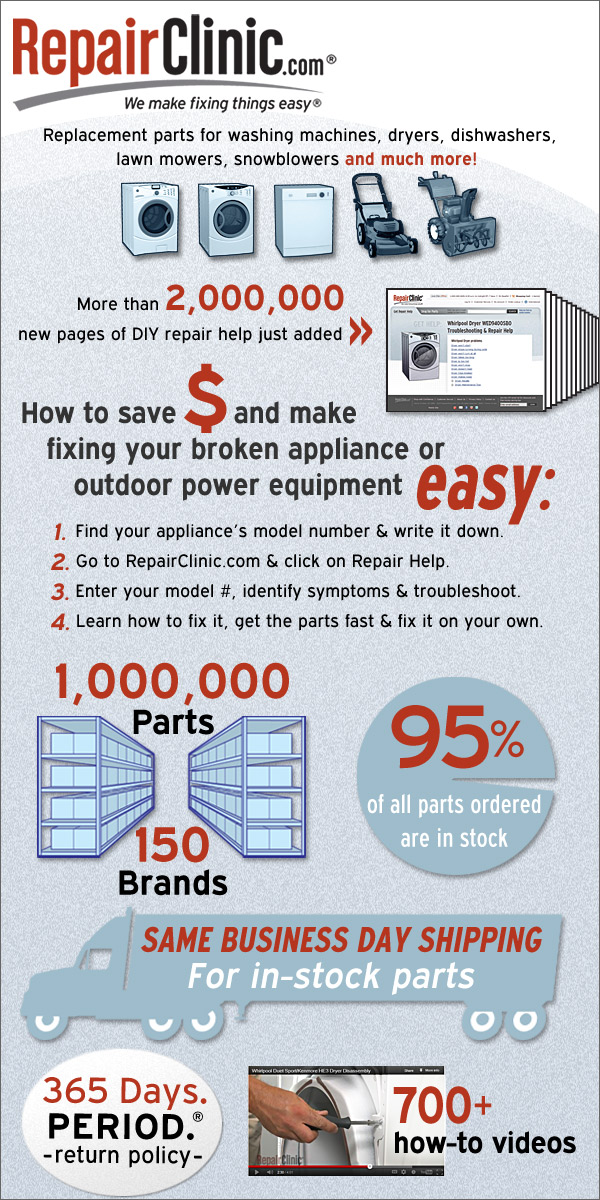 The Real Savings of DIY Appliance Repair
How much money can you save making home repairs yourself? Repair Clinic has done the math for you...
See our charts below to find out how much you can save on common home repairs.
Refrigerator
One of the more common refrigerator repairs is replacing the ice maker. Here's the cost difference between hiring a repair tech to fix it versus you fixing it:
Oven/Stove/Range
For electric ovens, replacing the bake element is usually the most needed repair. If your oven is gas, the igniter is the most common part to fail.
Dishwasher

If your dishwasher is on the fritz, more often than not the problem could be the water inlet valve.
Washing Machine
A damaged or broken drive belt is one of the more common parts that need to be replaced on a washing machine.
Dryer
There's no doubt about it, the thermal fuse is the most replaced item on a dryer. (Hint: clean the lint out of your filter before or after every load and from your venting every six months to help prevent this problem!)

Lawn Mower
In most cases, a lawn mower not being able to start is a result of a defunct carburetor. Here's how much you can save by replacing a carburetor by yourself.
Snowblower
We recommend replacing your snowblower's spark plug once a season. A spark plug that's on the fritz increases emissions reduces engine performance and increases fuel consumption. We offer spark plugs to nearly every snowblower model on the market. We also sell spark plug wrenches to help you perform the maintenance yourself.