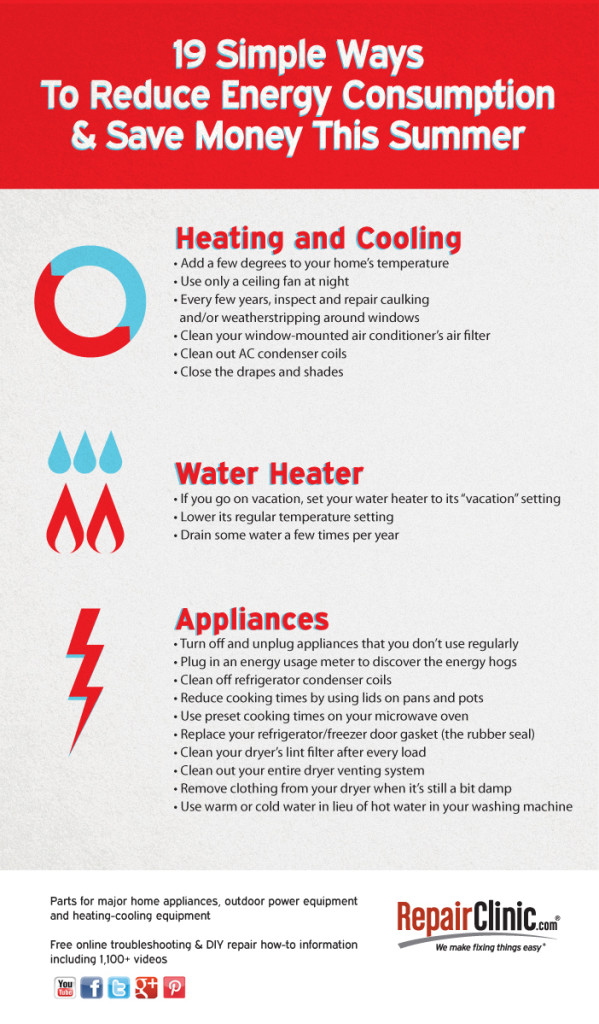 19 Simple Ways to Reduce Energy Consumption and Save Money This Summer
Saving money and reducing energy at home go hand in hand, and Repair Clinic wants to make that job easier for you. Here are some simple and easy to-dos that will help lighten the load.
Heating and Cooling
Add a few degrees to your home's temperature. In your home, wear summer clothes designed for warmer temperatures.
When temperatures drop in the evening, consider using only a ceiling fan.
Every few years, inspect and repair caulking and/or weather-stripping around windows.
Clean your window-mounted air conditioner's air filter. A clogged air filter will result in significantly more energy consumption and can lead to costly air conditioner repairs.

Close the drapes and shades.

Draw window shades and drapes closed in order to deter the fast-warming rays of sunlight from reaching your rooms. This may reduce the room temperature by at least a few degrees, taking a load off your AC.

Prevent a sudden central air conditioning breakdown.

Central air conditioner condensers should be cleaned annually to keep them operating properly. Use a garden hose and gently wash out leaves, grass, dirt and other debris from between the coils.
Water Heating
If you go on vacation, set your water heater to its "vacation" setting.
Lower your water heater's regular temperature setting. Most people keep water heaters at a much higher setting than is necessary for their needs, which means they are wasting energy keeping water exceptionally hot for most times of the day– while they are sleeping or at work. A setting of 120 degrees Fahrenheit (48 degrees Celsius) is generally sufficient for most households.
Drain water from the water heater a few times per year. This will remove natural sediment buildup that can reduce energy efficiency.
Appliances
Turn off and unplug appliances that you don't use regularly.

Find the appliances in your home that are energy hogs.

Find out what appliances are energy hogs by plugging in an energy usage meter. This will enable you to track consumption, discover inefficiencies and possible problems.
Clean off refrigerator condenser coils. Condenser coils have the important job of removing heat from refrigerators and keeping the temperature cool. Condenser coils are your refrigerator's large, radiator-like coils located at the back or beneath the unit. Unfortunately, they're dust and dirt magnets. Such build up on the coils makes it more difficult for refrigerators to function properly and the result is increased energy consumption. These coils should be cleaned every 12 to 18 months; if you have pets, you may need to do this more frequently. A

long-handled bristle brush

and your vacuum cleaner will work best to remove dirt and fur from the coils. On models with coils located beneath the unit, you can access this area by removing the bottom grill or kick-panel located at the front or an access panel at the back. A flashlight will be helpful in this dark area to prevent any damage to the fan.

Reduce cooking times by using lids on pans and pots.

Use preset cooking times on your microwave oven. Many people don't bother using their microwave preset cooking features. This will heat food more effectively and conserve energy.

Replace your refrigerator/freezer door gasket (the rubber seal). Gaskets have the important job of sealing the door and preventing warm air from entering but they can get ripped or torn over time. Your refrigerator and freezer may be working overtime because of air flow between the door and the interior of the appliance.

Clean your dryer's lint filter (lint screen) after every load. A clogged lint filter means it will take longer for your dryer to dry clothes. It's also an extreme fire hazard.

Once per year, clean out your entire dryer venting system.

Remove clothing from your dryer when they're still a bit damp. Hang them up right away. This will save energy and prevent wrinkles.

In lieu of using hot water in your washing machine, warm or cold water is sufficient for cleaning clothes.
Repair Clinic has millions of appliance parts available for same-day shipping and we offer a 365 return policy guarantee. Call 800-269-2609 you need help placing an order today.