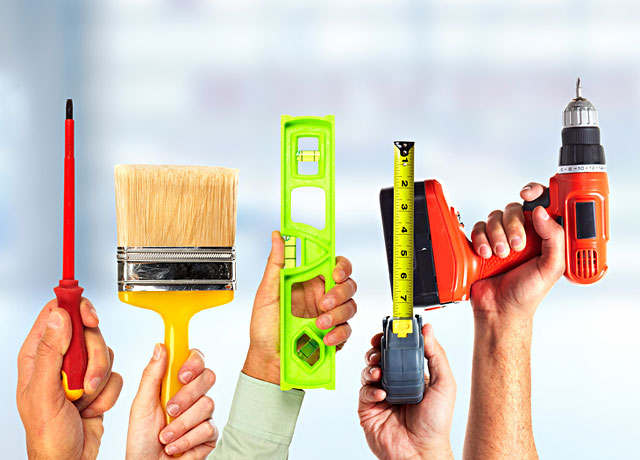 I Can Fix This Myself
With millions of replacements parts available for fast shipping, and a 365-day return policy, RepairClinic.com really does encourage everyone to become a DIYer. Of course, some repairs require a greater level of skill than others. Unless you're an experienced technician, you may not want to attempt replacing the compressor in your refrigerator or the heat exchanger in your furnace. This is why RepairClinic.com uses a rating system that estimates each repair's level of difficulty. But you shouldn't feel intimidated. For every difficult repair, there are dozens that are really quite simple to do with a little guidance. Here are just a few of the appliances and products we can help you fix, along with the most common parts and repairs associated with them:
Front-Load Washer
Water Inlet Valve – If your washer fails to fill properly, it's likely that the water inlet valve is defective. A common replacement part in all washers, the inlet valve is inexpensive and fairly easy to install.
Drain Pump - If your washer has trouble draining, a clogged or defective drain pump is the likely cause. Be sure to check the "coin trap" found on the front of the pump first – that's where loose change, buttons and other debris often end up. If there doesn't appear to be any obstruction, it's possible that the pump has failed either mechanically or electrically. You can use a multi-meter to test the pump motor for continuity to help determine if the part has failed electrically.
Drive Belt – Many front-load washers use a belt to rotate the inner tub. If the tub fails to spin or agitate, it's possible that the belt is worn out or broken. The belt and drive pulley are easily accessible. Just remove the appliance's rear panel and you can replace the old belt with a new one in a minute or two.
Dryer
Thermal Fuse - By far, a thermal fuse is the most common part to fail on a dryer. If the venting or blower housing becomes clogged with lint, the thermal fuse will blow, cutting off power to the burner, heating element or the appliance itself. After replacing the fuse, be sure the venting and blower wheel are clean and free of obstructions; otherwise, you'll continue to replace the thermal fuse far too often.
Drive Belt – If the dryer drum fails to turn, it's likely that the drive belt is worn out or broken. Most belts are inexpensive and easy to replace.
Rollers, Glides and Bearings – If the dryer is noisy during operation, worn rollers, glides or bearings are a likely cause. Some models will have a bearing and retainer supporting the rear of the drum and glides in the front; other models will use rollers. If one roller or glide is worn out, we recommend replacing all of the rollers or glides at the same time.
Refrigerator
Water Filter – If your refrigerator has a water filter, you should replace it approximately every six months to maintain proper water flow and to ensure good water quality.
Check Air Flow - Air flow is critical for proper operation both inside and outside of the refrigerator cabinet. A damaged evaporator fan or an obstructed vent will prevent the air from circulating properly between the freezer and refrigerator compartments. Since overheating is the main cause of compressor failure, you should maintain good air flow outside the cabinet by ensuring that the rear of the appliance is kept a few inches away from the wall.
Clean the Condenser Coil – Over time, the condenser coil will collect dust and debris which can prevent the refrigerator from cooling efficiently. We recommend using a brush to clean the coils periodically for optimum operation. You should also clean the condenser fan motor as well.
Evaporator Fan Motor or Condenser Fan Motor - If either the evaporator fan motor or condenser fan motor become noisy during operation or stop working altogether, you should replace the defective component with a new one.
Water Valve – If your water dispenser is not working or the icemaker doesn't fill, it's likely that the water valve is malfunctioning. Valves can fail either electrically or mechanically. You can determine if the valve has failed electrically by using a multi-meter to test for continuity, a continuous electrical path present in the valve. If the valve tests negative for continuity, it will need to be replaced.
Microwave Oven
Glass Tray - Regardless of the model, the glass tray in your microwave is removable and easy to replace.
Filters - Grease and carbon filters are usually easily accessible and should be replaced on a regular basis to improve venting and eliminate odors.
Waveguide or Stirrer Blade Cover – Your microwave oven's waveguide or stirrer blade has a cover to protect the component from getting soiled. A damaged cover can result in electrical arcing within the oven cavity. If you see sparks coming from the cover, the part should be replaced.
Lawn Mower
Cutting Blades – Sharpening the cutting blade should be a part of your annual lawn mower maintenance. However, if the blade is damaged, you should replace it with a new one. Be sure to enter the lawn mower's model number to find the right blade for your mower.
Control Cables, Belts and Starter Cords – Over time, brake and throttle cables can fail; the same can happen to self-propel drive belts and starter cords. All of these parts are replaceable and they don't take long to install.
Air Filter, Spark Plug and Engine Oil – All three of these items should be replaced annually at the beginning of the mowing season. For greater convenience, the items have been collected in "tune-up kits" that match your specific mower model and engine type. With one purchase and a few minutes for installation, your lawn mower will be ready for use.
Furnace
Igniter – Bad news: Furnace igniters fail often. Good news: Igniters are fairly inexpensive and easy to replace.
Flame Sensor – Over time, corrosion can build up on flame sensors which can prevent them from properly sensing the flame. If simple cleaning doesn't improve operation, you should replace the sensor.
Blower Run Capacitor - A run capacitor sends power to the furnace's blower motor and it's a component that is more likely to fail than the motor itself. If the blower motor fails to work, always check the capacitor first. As with many electrical parts, you can use a multi-meter to test the capacitor for continuity.
Get parts for your mower »