SHOP WASHER/DRYER COMBO PARTS
Use the filters on the left to narrow down your results. Didn't find what you're looking for?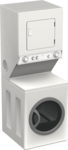 A washer/dryer combo appliance is one of the most convenient and compact home appliances to have! So, when it begins to malfunction, rely on RepairClinic for the quality and sturdy washer/dryer combo ...