SHOP WORKFORCE PRESSURE WASHER PARTS
Use the filters on the left to narrow down your results. Didn't find what you're looking for?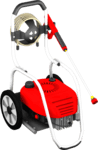 If your Workforce pressure washer parts are on the fritz, your pals might start calling you "Weakforce" and that's not cool. RepairClinic has the Workforce pressure 163cc pressure washer parts to make...