SHOP WHIRLAWAY GARBAGE DISPOSER PARTS
Use the filters on the left to narrow down your results. Didn't find what you're looking for?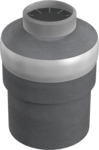 One sign you might need a new Whirlaway splash guard is if you've recently been splashed in the face when you flipped on the garbage disposal switch. This is also a clear sign you shouldn't look into ...