SHOP REFRIGERATOR PARTS
Use the filters on the left to narrow down your results. Didn't find what you're looking for?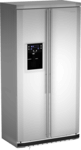 Is your refrigerator not running or too cool? If not, it may be due to a faulty air filter, control board, or even a thermistor which monitors the temperature and messages the control board to run the...