SHOP REFRIGERATOR GASKET & SEAL PARTS
Use the filters on the left to narrow down your results. Didn't find what you're looking for?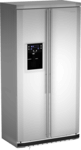 A refrigerator door gasket seal helps maintain a refrigerator's temperature. The gasket acts as a barricade to supply an air-tight seal between the air in your fridge and outside air. If your fridge's...