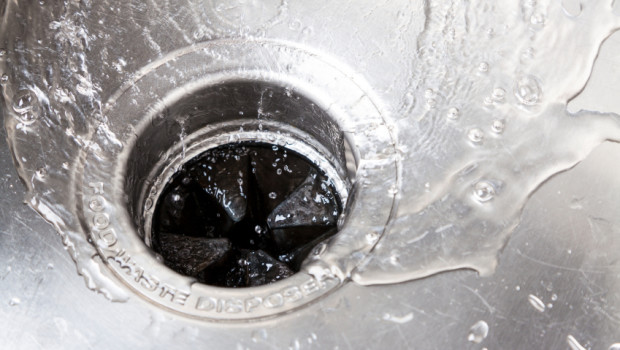 The handy garbage disposal (a.k.a. garbage disposer) has an important role in the kitchen. Here are three common myths associated with it:
1.) Myth: You can put any kind of food down a garbage disposal.

No, fibrous foods such as potato skins and corn husks can cause problems because the disposer cannot properly break down the food. Never put such food in a disposal; you will regret it To avoid clogging in your disposal, ALWAYS run the water and try not to overload the disposer with too much food to process at once.
2.) Myth: You can easily sharpen disposal "blades."

While ice cubes may assist with removing food from the "blades" and the interior of the unit, there's really no efficient way to sharpen garbage disposal blades. Over time, they dull. If you find that your disposal is no longer operating properly, you may need to replace the entire disposal. After 10 years or so, it's best to just replace the disposal.
3.) Myth: Regular use of bleach to clean and deodorize your disposal is a good idea.

Bleach is powerful. Frequent use of this chemical is not advised, as it can erode the disposal.
We frequently use these biodegradable, non-toxic cleaning pellets to eliminate disposal odors naturally and keep it smelling fresh.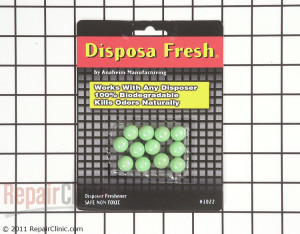 However, if you find that you have a major disposal odor problem: While running the disposal and the faucet, pour in a solution of one gallon of water and one half cup of bleach. This will destroy odor-causing bacteria. It is not advised that you use bleach alone.
Your disposal's splash guard is a bacteria haven. Some disposal models enable you to remove the splash guard and clean it by hand. Let it soak in vinegar or bleach for 20 minutes. Then rinse and return to the disposal. You should do this once per month. Consider replacing it if you have difficulty eliminating odor.
Garbage disposal not working? We'll help.
RepairClinic has free troubleshooting and how-to repair help information for common problems associated with garbage disposals such as blades not turning, water leaking and others. With your model number handy, visit our repair help. RepairClinic has garbage disposal/disposer replacement parts including splash guards, stoppers, gaskets and more.
Additional garbage disposer maintenance tips
Related videos:
Learn how a garbage disposer/disposal works

How to find your garbage disposal (disposer) model number

Learn something from this post? Share it!
Click here to tweet this post.
Love saving money and DIY tips? Yep, we do, too.
Want tips and discounts delivered directly to your inbox? Sign up for our free VIP email list.
****
Need help finding the right part? We're here for you.
Call us at 1-800-269-2609 or click on the Live Chat button at the top of RepairClinic.com. We're here 7 a.m. to midnight ET, every day.