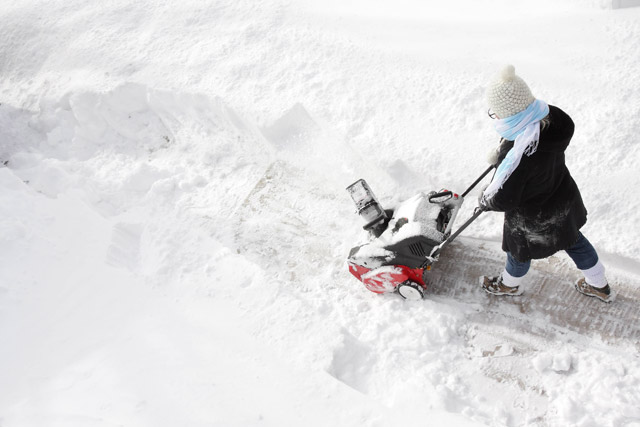 Snowblower Prep Checklist:




9 Things You Can Do Today to Be Ready for Winter
Many of us wait till the first snowfall to prep our snowblower for the winter. Repair Clinic has nine simple things you can do to get your snowblower ready for the winter storms ahead:
Review the Owner's Manual


No matter what appliance or yard equipment repair you're doing, reviewing the owner's manual should always be step #1. This is because every make and model is different, checking out the manual can help you avoid costly mistakes.



Replace the Spark Plug




You should replace your

snowblower's spark plug

at least once per season. We even have a

spark plug wrench

to make this task easier to accomplish. (You can also use the wrench with your lawn mower or other small engine.)





Drain and Replace the Oil




This step is definitely one to look up in the owner's manual before doing. You need to know the right way to tilt your snowblower when draining the oil, the wrong way could cost you! The

oil should be replaced

every 50 hours of use or at least once per season.





Add Fresh Fuel and Fuel Stabilizer




Fuel stabilizer

slows the development of damaging buildup and clogs in the carburetor.





Remove Dirt and Grime




A

degreaser spray

will remove grease and dirt from grimy areas. Let the degreaser to sit for 10-15 minutes before wiping off with a clean cloth.





Check the Fuel Cap




Fuel caps

have small vent holes to allow air into the fuel tank. If the holes on your fuel cap are blocked by buildup, you'll want to replace it.





Lubricate Bearings




Lubricate wheel bearings, auger bearings and impeller bearings and make sure all parts turn and move correctly. A

lithium-based grease

is ideal for this.





Inspect the Tires, Auger, Scraper Blade, Slide Shoes, etc.




Check the tires for wear and replace as needed. Use a tire pressure gauge to check the air pressure in pneumatic tires. Thoroughly inspect key components like the

auger

,

scraper blade

and

slide shoes

(a.k.a. skid shoes) for wear. Replace these parts if they are worn or damaged beyond repair.





Test, Troubleshoot and Repair as Needed




If a snowblower has performance issues such as starting and then stopping or malfunctioning augers, take the time to

troubleshoot and repair now

.



Repair Clinic has millions of lawn and garden parts available for same-day shipping and we offer a 365 return policy guarantee. Call 800-269-2609 if you need help placing an order today.