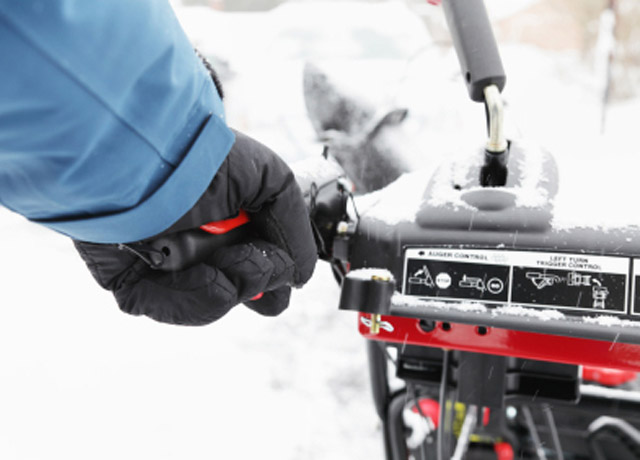 Snowblower Safety Tips
Snowblowers are a major convenience when the snow comes, but they should be used with respect and care. Since 2003, over 9,000 Americans have lost a finger – or two – in snowblower accidents. And nearly 6,000 injure themselves each year when they're snowblowing.
Repair Clinic wants you to avoid being a snowblower statistic. So, we've put together some useful snowblower tips to keep you safe this winter:
Unclog a Snowblower




This is the number one cause of snowblower ER trips. To help avoid clogs altogether, we suggest using a

no-stick spray

in any areas that come in contact with snow. But if you do get a snowblower jam, here's the safe way to fix it:

Turn off the engine on a gas model or unplug it if yours is electric.

Let the snowblower rest for a minute or two so all of its parts stop moving.

Use a

clearing tool

, end of a shovel or a broom handle to clean a clog at the

auger

or

chute

. NEVER use your hands or feet!

Prevent Carbon Monoxide Poisoning




Don't run your gas-powered snowblower while it's in the garage or shed. Wait till you get it out on the driveway or sidewalk before starting it up. Even small gas engines emit carbon monoxide.

Protect Your Hearing




Your snowblower will typically run at over 100 decibels (dB). To put that in perspective, a vacuum clean comes in at about 70 dB and a jackhammer is around 130 dB. Avoid potential hearing loss and use ear plugs or other

hearing protection

.

Think About Your Clothes




No, you don't have to be fashionable when clearing snow, but you do need to pay attention to what you're wearing. Avoid loose pants, scarves or jackets – they can get tangled in the snowblower's moving parts. Also, be sure to wear sturdy shoes with good traction. You definitely don't want to slip and fall when using a snowblower!
Visit our Snowblower Repair Help page for troubleshooting tips. We also have a great snowblower maintenance video so you can keep your snowblower running smoothly all season.
Repair Clinic has millions of lawn and garden parts available for same-day shipping and we offer a 365 return policy guarantee. Call 800-269-2609 if you need help placing an order today.